Posted by Woodrow Jewelers Team on 13th Mar 2018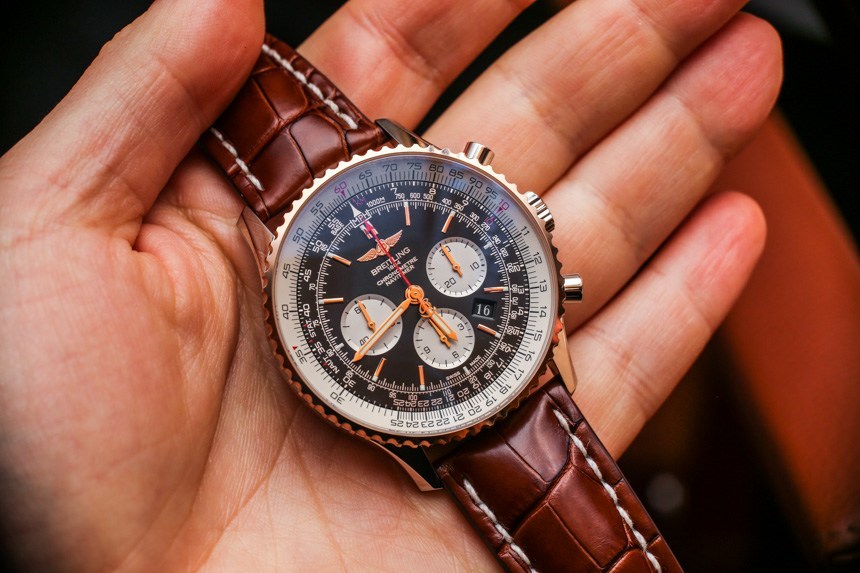 Congratulations, you've joined the Breitling timepiece family! We've got some advice on how to keep your watch ticking and the quality of your accessory lasting years after you pass it on to your children or your children's children.
We must note, before anyone takes cleaning or maintenance of their precious Breitling timepiece into their own hands, talk with a member of our Woodrow Jewelers of Rye, NY team to find out just exactly the right care needed for your specific accessory.
1) Cleaning
Sweat and dust can accumulate on your watch bracelets and cases over time and their deposits can not only lead to irritation of the skin but oxidation of the steel. Breitling recommends cleaning the case and strap (this does not pertain to leather straps) occasionally using a gentle toothbrush and liquid soap with a gentle tap water rinse. After rinsing, dry with a gentle and absorbent cloth.
2) Leather straps
Gorgeous and finicky, their supple nature and brilliant color is adorned yet feared by watch wearers. Fear not, we have advice on keeping those precious straps happy and beautiful.
They don't like water, period. Keep your leather straps and bracelets out of humid or damp places and avoid putting them in contact with excessive sweating situations or in contact with water (pool water, ocean water, whatever). If your leather strap ever gets wet, quickly dry with an absorbent cloth and consider stopping by Woodrow Jewelers for any assistance with your straps integrity. We recommend a metal or rubber strap for those adventurers intending to wear their timepiece in any less-than-dry scenarios.
Similar to water, perfumes, cosmetics, chemicals, and excessive sun exposure are equally disliked by leather straps. In order to properly care for the life of the straps heed the warnings on materials to avoid and consider asking anyone from the Westchester-based Woodrow Jewelers team if they have advice on any home leather care kits.
3) Rinsing
Hopefully wearing the appropriate strap or bracelet (see above), be sure to rinse your watch under a steady stream of tap water, then dry with a gentle cloth. Be sure to rinse your watch especially after having contact with chlorinated pool water or any combination of salt water (ocean water, brackish water, etc.).
4) Avoid extreme temperatures
Ideally, the watch functions optimally in 0°C (32°F) to 50°C (122°F) and it is not recommended to allow the watch to jump drastically between temperature extremes. Thermal shock, or the adjustment between temperature exposures rapidly, can risk the integrity of the glass and could lead to shattering. In addition, high temperatures above those noted can cause the battery or the watch itself to malfunction and low temperatures can impact the watch's well-known precision.
5) Water resistant or waterproof?
Each and every Breitling watch has a certain degree of resistance to water, and that is defined in terms such as meters or "bars" (1 bar is equal to 10 meters, or about 33 feet). The detail defined as "water resistant to ## meters" is not the exact depth to which one can wear that particular watch, rather the watch is resistant to pressures created by water immersion up to that specific ## depth. It is obvious to anyone with a little physics knowledge that diving into a pool will increase the pressure placed on the watch. As the Breitling website indicates, a watch indicating water resistance at ≥30 bars (or 300 meters or 1,000 feet) is able to handle splashing, showering, water sports, water skiing, snorkeling, and even diving.
Always consult with your friends at Woodrow Jewelers for authorized customer service before performing any maintenance on your Breitling watch. As a rule of thumb, never push, pull out, or activate any pieces of the watch under water or try to open the case.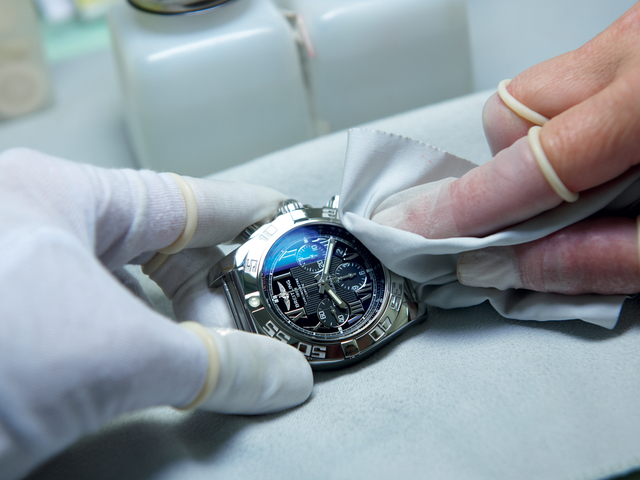 If you ever see condensation or water under the glass, immediately call or come into our store to have the proper service performed as quickly as possible. New models or pre-owned watches are never immune to the dangers of water or chemical damage, so before visiting a random mall shop in White Plains or buying from a potential fraudulent United States, non-authorized seller, always check the care guidelines.
We want to see your Breitling watch last many lifetimes and know that with the proper care, maintenance, and service, it will continue to be the quality timepiece you remember when you first put it on.