Posted by Woodrow Jewelers Team on 26th Mar 2018
Fast reference: the makings of an engagement ring
- Metal types
- Band style
- Diamond shape, brilliance, and carats
- Prongs and bearings
Westchester County, New York, is ripe with history, overflowing with incredible people, and rich with accomplishments.
With such an established culture, it is no surprise that seeking out the perfect piece of forever for the love of your life could be daunting. Engagement ring shopping doesn't have to be stressful or nerve-racking. Whether you're following a traditional, secretive, and unexpected plan or sharing the search for the perfect piece together, we can assure you that our knowledgeable staff, incredible selection, and ability to personalize each piece of diamond jewelry will make the ring selection process the least stressful part of your upcoming nuptials.
As a history lesson, the first diamond engagement ring was documented in 1477 when the Archduke of Austria gave a diamond ring to his love, Mary of Burgundy. Many adaptations since that time have been studied by historians and philosophers with stories of royalty and of deception by the diamond market to give diamond engagement rings.
Let's break down the parts of the traditional engagement rings that you can find in our store, or work with our staff to build from a wish list a custom jewelry piece:
The Band
Traditional white gold or yellow gold bands are always available, but platinum is one of our newest and favorite jewelry design options.
White gold bands are typically plated by rhodium, a metal that gives the shine and polish one would expect. The plating also allows for the surface to be hypoallergenic and to protect the gold itself.
Yellow gold bands historically were chosen for engagement rings, and can be found in various carats: from 14ct to 18ct, or even 22ct. This bright and traditional color has recently been making a comeback.
Platinum bands are strong and resistant to contact allergies, unlike gold bands. Typically with a higher price point, platinum bands definitely deliver the quality you'd expect for the price.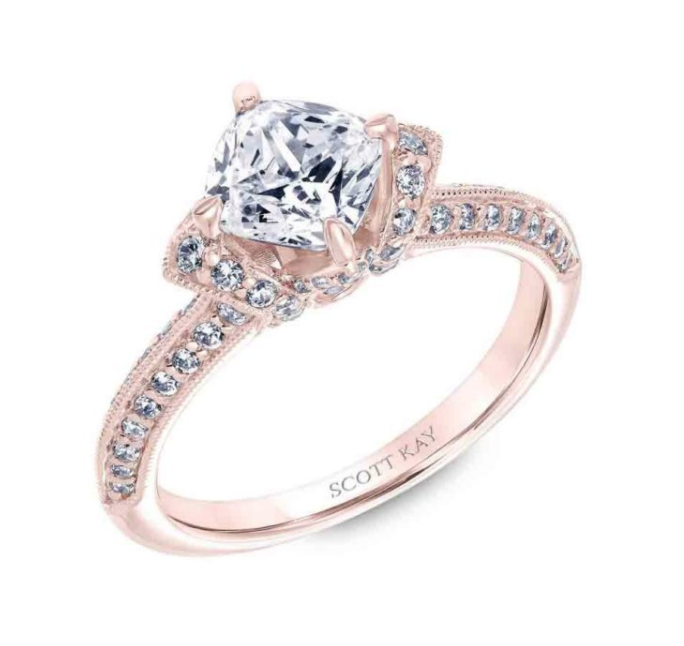 Rose gold bands are one of the latest trends for jewelry and accessories in general, but it wasn't long before the engagement ring style was updated to follow suit. Available in tones of pink and red, rose gold encompasses all of these variations and is definitely making women rethink that dream ring band color.
Silver, titanium, palladium, zirconium, tungsten, and steel are all found in the shiny grey-silver color, and have all been used for engagement rings and wedding bands for hundreds of years.
Bands can be studded with smaller diamonds next to the main stone(s), and are called accent stones.
The stone
Almost always a diamond with the best clarity, color, and carat is sought after by jewelry stores across America, but the most variety comes with the number of diamonds and their cut.
Whether you're atop the tallest penthouse in Manhattan or living in an apartment by the water in Tarrytown, budgets come in to play, especially when choosing the stone(s) for that jaw-dropping, tear-jerking, heartfelt ring.
You want to first decide on whether or not you're going to choose a solitary diamond ring, halo, or three-stone type.
Then the cut and shape of the diamonds would be selected. Princess is one of the most popular for its ability to let the light reflect brilliantly. Marquise is a unique style of cut and shape that is ellipse shape. Pear shape is another unique style with a classic tear-drop shape. The asscher, cushion, and radiant shapes are a rounded square or angled square shape. The emerald shape isn't just for the green precious stone, but for diamonds as well. The emerald is a rectangular and rather simplistic shape and cut that is very different from many more popular cuts, like the princess. The round, heart, and oval cuts are also making a comeback with fashionable and stylish future brides.
When choosing a center stone, the side stones are also kept in mind for cut and shape to create a cohesive look. The side stones are typically lower in carats compared to the center stone.
The prongs and bearings
Classically, prongs and bearings (also known as gallery rails) that hold the diamond(s) in position, were made of the same metal type as the band. However, with modern tastes, prongs and bearings have upgraded to also show individual style and provide additional customization.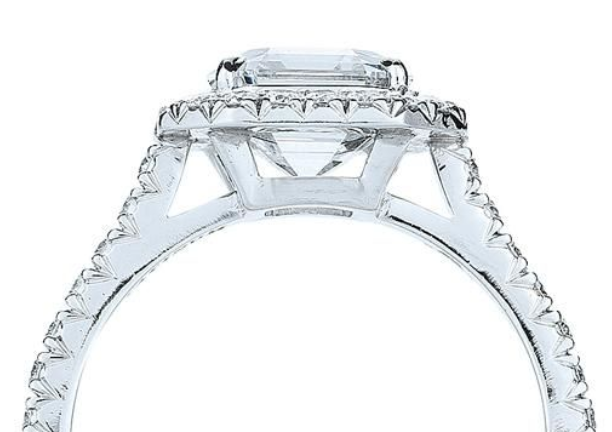 Gallery rails offer added protection and security to the center (and side) diamonds and can be adorned with smaller diamonds for added sparkle.
Prongs come in various styles from contemporary v-shapes to a more rounded and less imposing look. They have the biggest job of holding the diamond in place, and this portion of the ring can be tightened and checked routinely for security and piece of mind. Keeping the jewelry repair in mind, it is always recommended to have your ring cleaned and checked by our trained staff. There's no excuse for not taking a quick ride from Chappaqua, White Plains, or Mount Kisco to our local store for a quick check up on your ring!
Most customers visiting our Rye, NY store narrow in on brands like Scott Kay and Kwiat. However, beyond the designers we carry, we can also work with the dream ring you have in mind to either help build it with you, or find a piece you may not even see in the abundant glass cases. The Knot tends to be one of the top-rated sites for searching and learning about engagement rings, but our knowledge and impeccable customer service can improve upon anyone's ideas.
While in the market for the ring you will wear all your life, take a look at some of the wedding rings you will both wear, and always keep in mind the combination of your engagement ring with a wedding band. The wedding party will appreciate a simple pendant necklace or the quality craftsmanship of a pair of personalized cufflinks. We can be your one stop shop for wedding preparations and gifts for the mothers, fathers, and bridal party you will celebrate with on your big day.