Posted by Woodrow Jewelers Team on 25th Sep 2017
Designing timeless jewelry began in 1977 when Roberto Coin himself started creating memorable pieces after leaving his career as a hotel manager. Risk takers, like Roberto, with the right vision and persistence have historically disrupted and impacted their subsequent fields to elevate them to new heights and offer incredible contributions that can change an industry.
Vicenza, Italy (ironically also known as "the City of Gold") was the birth place of Roberto Coin, in which his life started like many other successful people, difficult with many challenges beyond those he would ultimately encounter when creating his future company. Sadly, Roberto lost both his father and mother at a young age and was forced into working quite early in life at a trendy hotel. And despite his family being well known in the Italian fashion industry, his early working years did not begin in a fashion-based apprenticeship. The exposure he had to wealth and style in the hotel industry, it has been said, pushed him all the more to achieve success. As he grew more experienced in the hotel industry he eventually became the owner to a four-star hotel.
By his early 30's his creativity and talent led him to pursue a new path, luxury jewelry design. He sold his hotel and pursued his new dream with little training in 1977. He began his career by acting as a jeweler, buying and selling, before creating pieces in 1984 that replicated the designers he sold. But as many innovators have done before him, he became dissatisfied with mimicking others and forged his own brand designs revolved around craftsmanship and style. In 1996 the Robert Coin brand was created and became an instant success with new collections being released at an astounding rate. For some, the brand's success stands strongly in line with well known luxury brands such as Gucci, Valentino, Marco Bicego, Christian Louboutin, David Yurman, and Chanel. Sourcing the finest materials, like 18k yellow gold, rose gold, 18 white gold, sterling silver, diamonds, and pearls, collections took shape. From Pois Moi to Barocco and Golden Gate to Tiny Treasures, the collections are classic and always uniquely Roberto Coin. The collections include diamond pendants, hoop earrings, diamond rings, bangle bracelets, diamond bracelets, rings, and more, with new arrivals being introduced regularly.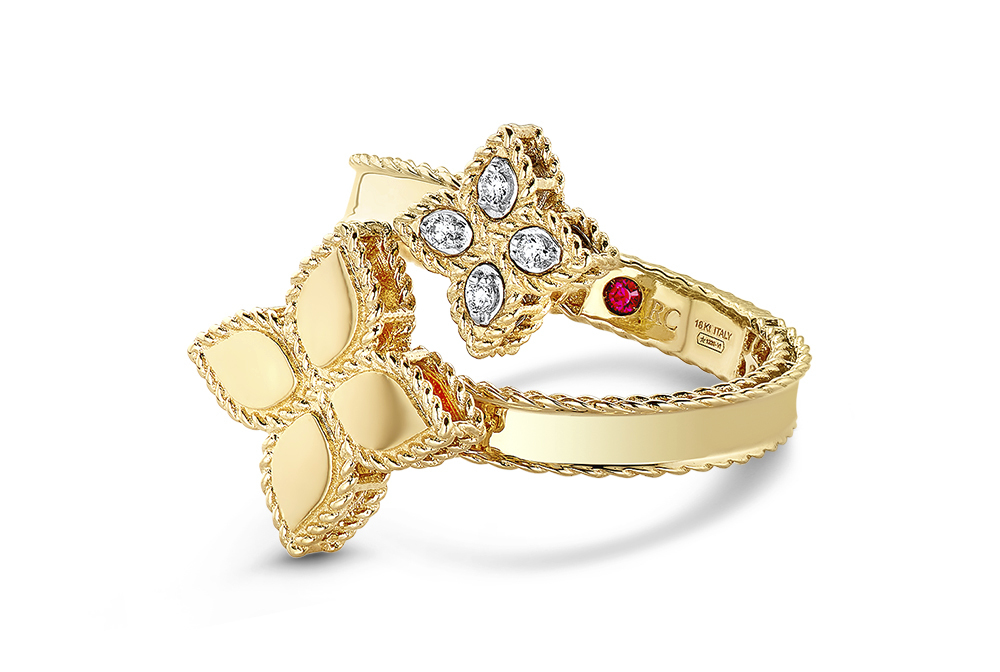 The brand's recognition would not be complete without the well-known signature 'coined' by Roberto himself: the ruby. Hidden under the piece like a secret compartment is this jewel only seen if taken off, is always in contact with the wearer – a direct connection with customer and piece. Those who know of Roberto's inspiration say that it is his way of thanking his supporters and wishing them well – what a guy!
With retailers all over the globe and collections that never cease to amaze and delight their clientele, Roberto Coin has staked its claim in history as one of the most recognizable and desired brands in the world – and we have the privilege of being part of their success at Woodrow Jewelers of Rye, NY.